Top 5 Cosmetic Procedures With No Downtime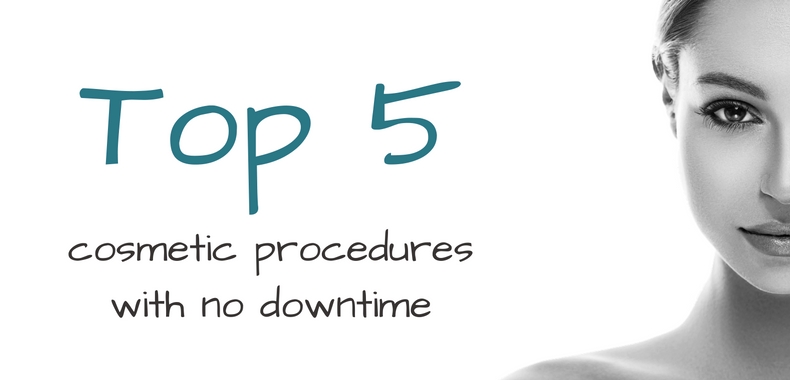 Let's face it-everyone wants to look younger and look their best. However, not everyone wants to go through surgery to achieve this.
Times have changed! Today, there are dozens of cosmetic procedures that are performed daily at dermatologist offices across the country with little to no downtime. That means no pricey stay at a rehab facility, and no time off from work. Here, we reveal the non-invasive procedures that can change your look in an instant.
If you're not satisfied with how you look, then it's time to restore your youth with non-surgical facial rejuvenation. Ready to learn more?
Here are the top 5 procedures to look younger without surgery:
1. Botox:
These minimally-invasive injectables work in different ways, but both give your face a more youthful and refreshed appearance. BOTOX works to relax wrinkle-causing muscles in the face, softening lines and wrinkles for up to 6 months. Dermal fillers actually fill in areas of lost volume on the face, helping to provide you with a more refreshed look in time for summer!
2. Voluma:
As part of the normal aging process, human beings lose bone mass and tissue fat from the face, resulting in a loss of facial volume. As a result of this loss of facial volume, the skin becomes saggy, the face flattens, the cheeks become more hollow, and the face loses its youthful shape.
By restoring this lost volume, Juvederm Voluma reverses these signs of aging. When Juvederm Voluma is placed under the skin, the skin is lifted, the facial contours are restored, and the facial appearance is more youthful and rejuvenated.
3. Chemical Peels:
Patients with wrinkles, freckles, age spots, scarring, and more can benefit from a chemical peel. Working remove the damaged outer layers of the skin, chemical peels can help provide patients with a healthy, glowing appearance.
4. Photofacial:
Photofacial, or IPL facial rejuvenation, uses Intense Pulsed Light to rejuvenate the skin, helping to improve skin irregularities like sun damage, rosacea, and brown spots. This non-invasive procedure is also quick – affording you improved skin in just five 20-minute sessions.
5. Microdermabrasion:
Dealing with sun damage or similar skin pigmentation problems? Microdermabrasion is an easy and effective solution that works to gently exfoliate the outer layer of skin. It can typically be completed in just 30 minutes, and it's effective for all skin types.
Our goal is to help you look as young as you feel! For more information on the top procedures to look younger without surgery book a free consultation at The Santa Monica Skin Care Center.