Which Dermal Filler Is Right for You?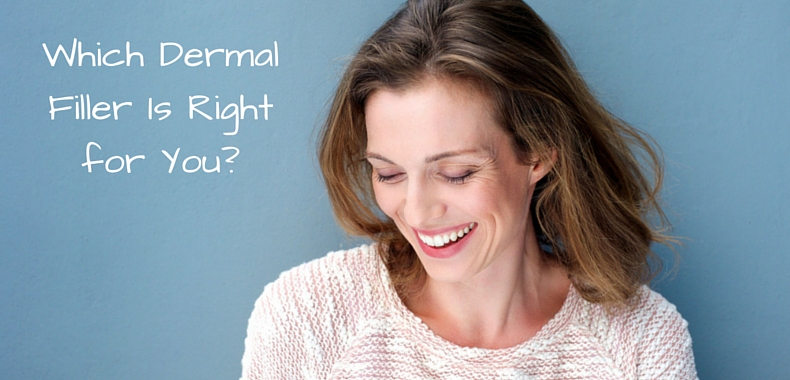 Discover The Perfect Dermal Filler For You
Does your face need a pick-me-up? Would you like to slow the hands of time? Dermal filler treatments are a quick and easy option for adding volume, smoothing wrinkles and lifting sagging skin. With just a few injections, you can wipe away the years without surgery or downtime.
Dermal fillers are so effective that they are often referred to as a liquid facelift. While they are a temporary solution for wrinkles, they are a much more cost-effective solution that can literally be performed over your lunch hour.
Dermal fillers are designed to add volume and decrease wrinkles from the cheeks to the chin, including:
Nasolabial folds ("smile lines")
Around the mouth and lips
In the lips (for augmentation)
Mid Cheek areas
However, even though they treat wrinkles in a variety of locations on the face, different fillers are made of different substances, which mean some work better to fill specific areas of the face than others.
If you are looking to minimize the appearance of wrinkles, the best solution is to set up a free consultation to determine which filler will best meet your need.
Let's take a quick look at a few of the most popular dermal fillers so you can see how each of these different products stack up.
Juvederm
Juvederm is a hyaluronic acid (a natural substance found in the body) smooth gel filler. It works well on moderate to severe lines, wrinkles, and folds on the face and neck. We can also use this filler for non-surgical lip augmentation. Injections typically last 6-8 months per treatment.
Juvederm Voluma
Juvederm Voluma is a unique filler that lifts and revolumizes the cheek area. Like its sister product, Juvederm, Voluma is a hyaluronic acid filler, but unlike Juvederm, this filler is injected deep into the midface tissues. Due to the deep placement and unique formulation of this filler, results can last up to two years.
Restylane
Restylane is a good all-purpose filler. It can be used to fill in lines and wrinkles, to plump up the lips and to smooth out depressions. The hyaluronic acid gel is very smooth, making this filler an excellent choice for the "tear trough" area (the crease from your nose to under the eye).
What the three dermal filler treatments have in common is the recovery/down time — itching, redness and/or bruising may occur at the injection site(s). Swelling may last for up to 7 days. And the basic procedure/pain factor: Usually a numbing cream (typically lidocaine) will be applied to the areas that will be injected, but most patients still experience moderate pain while being injected — especially around the mouth.
Which dermal filler is right for you? Call us today and we'll help you decide. A younger looking you awaits!
EXCLUSIVE ONLINE OFFER
For a limited time save $200 on Juvederm Voluma XC at The Santa Monica Laser and Skin Care Center.
– OR –
FILL OUT THE FORM BELOW
No Fields Found.